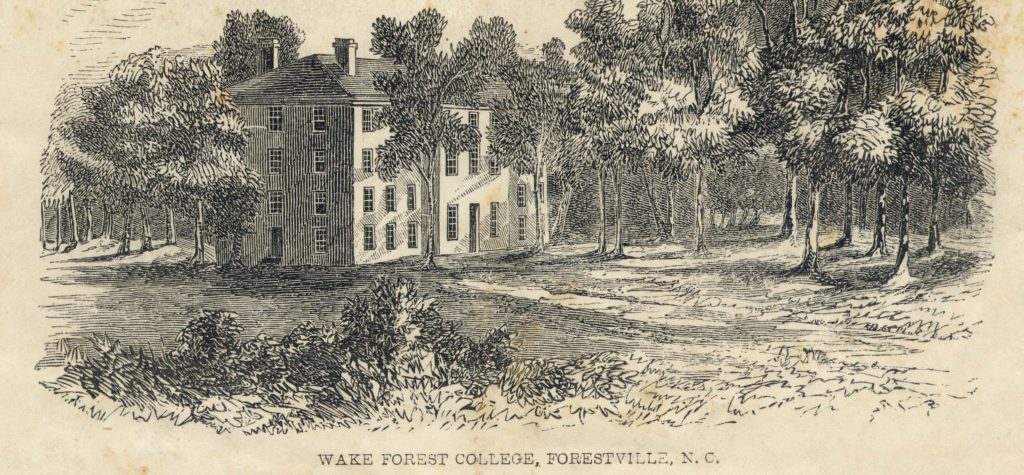 How We Got Here
Wake Forest history dates back to 1834, when Wake Forest Manual Labor Institute was founded in Wake Forest, North Carolina. It was rechartered as Wake Forest College in 1838, making it one of the oldest institutions of higher learning in North Carolina.
In 1946, the school accepted an invitation from the Z. Smith Reynolds Foundation to move 100 miles west to Winston-Salem, North Carolina. Construction began in 1952, and the new campus opened its doors in 1956. Winston-Salem is the home of R.J. Reynolds Tobacco Company, and much of Wake Forest's main Reynolda Campus is comprised of land that was once the R.J. Reynolds estate, a gift from the late Charles and Mary Reynolds Babcock. The institution was designated Wake Forest University in 1967.
Today, while Wake Forest's Reynolda Campus has maintained the look of its original 14 Georgian-style buildings, the school has grown significantly in physical landscape, academic offerings and stature.
Graduate and Undergraduate Programs Infuse Tradition with Innovation
The Wake Forest School of Law was founded in 1894 in the town of Wake Forest and, since moving to the Reynolda Campus, has grown into one of the most competitive law schools in the United States. In 1902, the medical school began on the "old campus," but moved to downtown Winston-Salem in 1941, several years before the College, law and business schools relocated. What began on the former campus in 1948 as the School of Business Administration for graduate studies is now the nationally prominent Wake Forest University School of Business, which offers both undergraduate and masters-level programs. The Graduate School of Arts & Sciences was established on Reynolda Campus in 1961, and the School of Divinity began on the main campus in 1999.
Recognized as one of the preeminent medical schools in the country, the Wake Forest School of Medicine recently opened new classroom, lab and clinical facilities in downtown Winston-Salem. The Bowman Gray Medical Center for Education is housed in Wake Forest Innovation Quarter, a unique mixed-use urban campus comprised of repurposed tobacco manufacturing plants.
In 2017, soon after the new medical school facility opened, Wake Downtown was established in Innovation Quarter. The physical home of Wake Forest's recently created undergraduate programs in engineering and biomedical sciences, Wake Downtown embodies Wake Forest's commitment to infuse tradition with innovation. On the urban campus, engineering and biomedical sciences programs share space with interdisciplinary offerings in the arts and humanities, allowing students and faculty from various areas of study to collaborate in state-of-the-art facilities.
Dear Old Wake Forest
Learning isn't the only thing Wake Foresters are passionate about. Demon Deacons wear the Old Gold and Black with pride. The smallest school in the Atlantic Coast Conference (ACC), Wake Forest has one of the conference's largest trophy collections. Since joining the ACC as a charter member in 1953 (along with schools like Duke, North Carolina and N.C. State), the Demon Deacons have won 56 ACC championships and nine NCAA Division I team championships. Now that's big.
The Faces, Places and Milestones of Wake Forest History
Explore key moments and individuals that shaped Wake Forest history as you navigate through photographs and factual accounts across a timeline of more than 175 years.
Reexamining Our Past: The Slavery, Race and Memory Project
Join us as we explore our collective identity through an ongoing research project commissioned by the Office of the Provost. Wake Forest joined a consortium of more than 25 universities to reexamine and correct our institutional story related to slavery and its legacy. Our intent is to explore and present our University's complex past in an honest, transparent and thorough manner that speaks to our values and principles as a learning community.